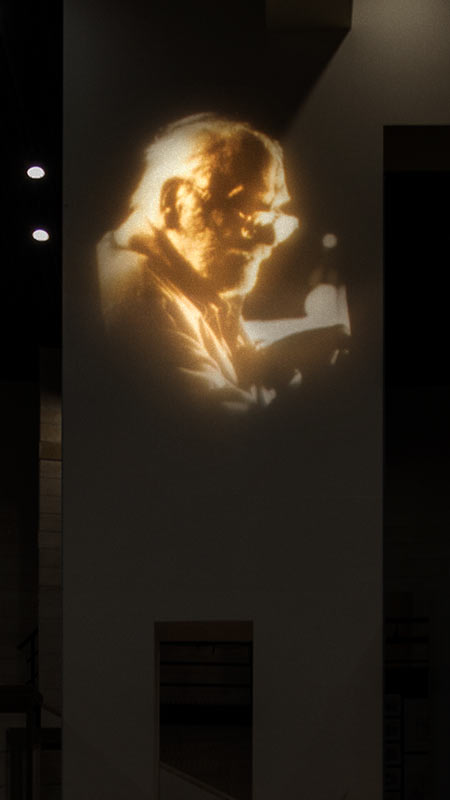 Pyotr Fomenko
July 13, 1932—August 9, 2012
People's Artist of the Russian Federation,
Laureate of the State Prizes of the Russian Federation
Pyotr Fomenko was born July 13, 1932, in Moscow. He graduated in 1955 from the Department of Arts at the Pedagogical Institute in Moscow. In 1961 he graduated from Nikolai Gorchakov's course in the Directing Department at the State Institute of Theatre Arts (GITIS — his teachers were Nikolai Okhlopkov and Andrei Goncharov). Beginning in 1962 he staged his first works at the Taganka Theatre — "The Microdistrict" by Lazar Karelin (1962) and "The Investigation" by Peter Weiss (1967). Fomenko did assistant director work under Yury Lyubimov on Lyubimov's productions of "Antiworlds" by Andrei Voznesensky, and"The Fallen and the Living" – based on poems of poets from the war years (both in 1965).

Throughout the 1960s Fomenko collaborated with the Central Children's Theatre, the Malaya Bronnaya Theatre, the Moscow University Theatre Studio on Lenin Hills, and the Mayakovsky Theatre. Important productions included: "King Matt the First " by Janusz Korczak (Children's Theatre, 1964), "A New Mystery-Bouffe" by Vladimir Mayakovsky (at the Lensoviet Theatre in Leningrad, 1967— banned after the first dress rehearsal), and Shakespeare's "As You Like It" (Malaya Bronnaya Theatre, 1968).

One of Fomenko's most famous outings in the 1960s was his production of Alexander Sukhovo-Kobylin's "The Death of Tarelkin" at the Mayakovsky Theatre in Moscow (1966). It was a bitter, accusatory piece, permeated with the absurdity and cruelty of Russian life. Despite its success among audiences, this hard-hitting show did not fit the reigning style of Soviet theatre of that time and it was closed down shortly after the first performance. In the 1970s Fomenko split his time between Russia's two capitals of Moscow and Leningrad.

He joined the Theatre of Comedy in Leningrad as a staff director in 1972. From 1977 to 1981 he was the venue's artistic director. There he staged: "This Charming Old House" by Alexei Arbuzov (1972), "The Trojan War Will Not Take Place" by Jean Giraudoux (1973), "Old New Year" by Mikhail Roshchin (1974); "The Misanthrope" by Moliere (1975), "The Muse" by G. Nikitin (1975), "The Forest" by Alexander Ostrovsky (1979), "The Wedding. Jubilee" by Anton Chekhov (1979), "Tyorkin-Tyorkin" by Alexander Tvardovsky (1980), "The Tales of the Forest of Arden" after Shakespeare (1981) and others. During these years he also staged several productions in Moscow, including: "Exams Never End" by Eduardo de Filippo (1976) at the Soviet Army Theatre and "Lyubov Yarovaya" by Konstantin Trenyov (1977) at the Maly Theatre.

Throughout these years Fomenko worked at the Central Television studios, creating his own unique genre of televised theatre. His output there included: "Novels of Hodja Nasredin" (1967), "Childhood. Adolescence. Youth" (1970) and "Family Happiness" (1972) by Lev Tolstoy, and "The Queen of Spades" (1969 and 1985), "The Shot" (1979), "The Blizzard" (1982) and "The Undertaker" (1991) by Alexander Pushkin. Fomenko made several feature length films. "For the Rest of Our Lives" based on Vera Panova's novel «Companions" (1974-1975) was released by Lentelefilm; "An Almost Funny Story," scripted by Yevgeny Braginsky (1976-1977), came out through Central Television Studios, and "Journeying in an Old Car" (1986) was a production of Mosfilm studio. Due to a long conflict between Fomenko and the Communist Party authorities in Leningrad, Fomenko was banished from the Theatre of Comedy, and from Leningrad, in 1981.

After leaving the Theatre of Comedy, Fomenko returned to Moscow. At first unable to find constant work in repertory theatres he began teaching at GITIS. There he staged several student productions: "Boris Godunov" (1984) and "The Queen of Spades" (1988) by Pushkin, "The Gamblers" by Nikolai Gogol (with Roza Sirota — 1986), "Wolves and Sheep" by Ostrovsky (1992), and "The Wedding" by Chekhov (1996). During these years Fomenko saw four classes through to graduation. His proteges include Sergei Zhenovach, Ivan Popovski, Oleg Rybkin, Yelena Nevezhina, Vladimir Yepifantsev, Vasily Senin, Mindaugas Karbauskis, Sergei Puskepalis, Nikolai Druchek and others.

In 1992 Fomenko was given the title of Professor of the Russian Academy of Theatre Arts (RATI — formerly GITIS). While teaching he staged several prominent productions in Moscow theatres. His works in the 1980s and 1990s included: "The Fruits of Enlightenment" by Tolstoy at the Mayakovsky Theatre (1985); "Guilty without Guilt" by Ostrovsky (1993) and "The Queen of Spades" by Pushkin (1996) at the Vakhtangov Theatre, "Caligula" by Albert Camus at the Mossovet Theatre (1990), and "The Magnificent Cuckold" by Fernand Crommelynck at the Satirikon Theatre (1994).

Fomenko's graduating class in 1993 (convened in 1988) was given the official status of an independent theatre, thus officially making him the artistic director of the Fomenko Workshop Theatre. His productions there over the next 16 years included: "Wolves and Sheep" by Ostrovsky (1992), "One Absolutely Happy Village" by Boris Vakhtin (2000), an adaptation of Tolstoy's story "Family Happiness" (2000), Tolstoy's "War and Peace" (2001), "The Madwoman of Chaillot" by Giraudoux (2001), "He Was a Titular Counselor," an adaptation of Gogol's "Notes of a Madman" (2004), Chekhov's "Three Sisters" (2004), "Forgive us, Jean-Batiste" after Moliere's "Le Bourgeois Gentilhomme" (2006), "What a Pity" after Gabriel Garcia-Marquez's "A Diatribe of Love Against a Seated Man" (2006), "Without a Dowry" by Ostrovsky (2007), "Tales of the Forest of Arden " by Yuly Kim after Shakespeare's "As You Like It" with a group of the theatre's graduate trainees (2008), "Triptych" based on Pushkin's poems (2009) and "A Theatrical Novel" by Mikhail Bulgakov (2012).

In the last years of his life Pyotr Fomenko rehearsed Pushkin's great tragedy "Boris Godunov." Spectators in Poland, France, Italy, Spain, Germany, Japan, Colombia, China, the United States, Latvia, Estonia, Serbia, Croatia, Greece and other countries had the opportunity to see Fomenko's work thanks to the theatre's many foreign tours.

Fomenko's productions won numerous awards: the Golden Mask national theatre award, the Crystal Turandot, the International Stanislavsky Award, The Chaika (Seagull) award, numerous citations at the BITEF festival and others. In 1993 Fomenko received the honor of People's Artist of Russia, and in 2005 he was proclaimed a Commander of the Order of Arts of France. He was given a President of the Russian Federation prize in 2004 and was a three-time laureate of the State Award of Russia (1995, 1998, 2002). In 2001 he was given the prestigious Triumph award, as well as the Georgy Tovstonogov Prize. He was awarded the medal Merits Before the Fatherland IV, III and II degrees in 1996, 2003 and 2007, respectively. Throughout his career he created more than 60 shows in Moscow, Leningrad, Tbilisi (Georgia), Wroclaw (Poland), Salzburg (Austria) and Paris (France).

Pyotr Fomenko died August 9, 2012, just weeks after his 80th birthday.