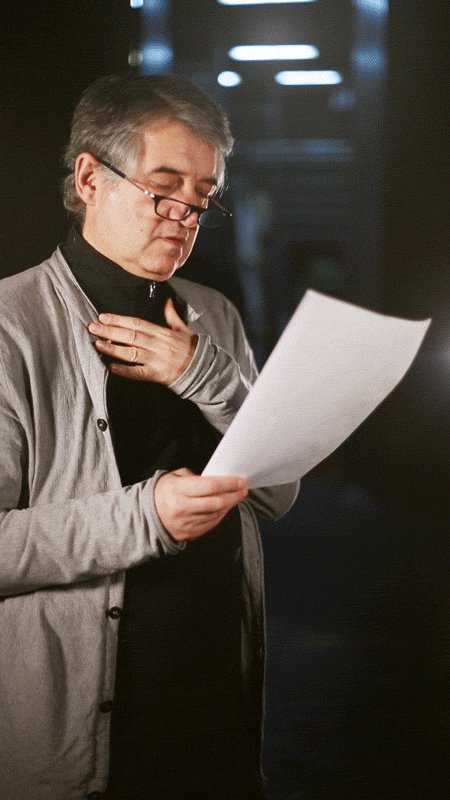 Yevgeny Kamenkovich
Artistic director
Distinguished Artsmaker of Russia
Yevgeny Kamenkovich was born into a theatrical family on November 9, 1954, in Kiev. His father Boris Kamenkovich was a director and a choreographer; his mother Irina Molostova was an opera director. He graduated from Vladimir Andreev's workshop in the acting department of the State Institute for Theatre Arts (GITIS) in 1976. However, he  immediately turned his interest from acting to directing and in 1982 he graduated from Andrei Goncharov's workshop in the GITIS directing department.
A year after graduation, Yevgeny Kamenkovich began teaching in two workshops simultaneously. From 1983 to 1992 he taught with Anatoly Vasilyev, and from 1983 to 2001 he taught as  a member of the team in Pyotr Fomenko's GITIS workshop. He was the head of an acting course at the Moscow Art Theatre school from 2000 to 2004, and has taught in Sergei Zhenovach's workshop at GITIS since 2001.
He began participating in a pedagogical experiment in 2007 when he joined forces with Dmitry Krymov at GITIS, where the two jointly head a workshop that educates future directors, designers and actors together in a single group.
He was awarded the Konstantin Stanislavsky Prize for pedagogy in 2010 and a Moscow city prize in the field of literature and art in 2013.
Kamenkovich has midwifed numerous productions by young directors working in the first and second graduate student studios at the Fomenko Workshop Theatre. They include "Ryzhy," based on the poetry of Boris Ryzhy (2010), "A Russian on a  Rendezvous," based on Ivan Turgenev's story "Spring Freshets" (2011), "The Egyptian Stamp" after Osip Mandelstam's story (2013), "Last Meetings," based on stories by Ivan Bunin (2013), and Alexander Pushkin's poem "Ruslan and Lyudmila" (2014).
The Kamenkovich-Krymov workshop at GITIS has presented the following graduation productions: "Pearly Zinaida" by Mikhail Roshchin, "Flying" by Olga Mukhina and "Evil-Tongued" after Richard Sheridan's "The School for Scandal".
Kamenkovich has worked on ten or more productions at  the Fomenko Workshop Theatre. One production, "The Main Thing," after Mikhail Shishkin's novel "Maidenhair," received the Crystal Turandot award for season's best prodution in 2007. In 2008 it won the Hit of the Season award. Actresses in the show won Golden Mask awards.
Kamenkovich was nominated for the post of Artistic Director by the company of the Pyotr Fomenko Workshop Theatre on September 24, 2012, and on  September 27 he was appointed to that position by  the Department of Culture of Moscow.
Productions at the Fomenko Workshop Theatre:
"The Importance of Being Earnest" by Oscar Wilde (1994);
"Barbarians" by Maxim Gorky (1999);
"The Moth" by Pyotr Gladilin (2005);
"Heartbreak House" by Bernard Shaw (2005);
"The Main Thing" after Mikhail Shishkin's novel "Maidenhair" (2006);
"Ulysses" after the novel by James Joyce (2008);
"Afterplay" after the play by Brian Friel, and Anton Chekhov's "The Bear" (2010);
"The Gift" after the novel by Vladimir Nabokov  (2012);
"Mountain Giants" by Luigi Pirandello  (2014);
"A Contemporary Idyll" by Mikhail Saltykov-Shchedrin (2015).
Yevgeny Kamenkovich has worked with many different theaters. His list of productions includes:
"Ivan-Tsarevich" by Yu. Mikhailov (1981) based on  a plot by Alexander Ostrovsky and Russian folk tales; also "The Enchanted Dream" by Yuly Kim (1987) at the Mayakovsky Theatre;
"The Eighteenth Camel" by Samuil Alyoshin (1983); "The Fateful Error" by Mikhail Roshchin (1985); and "The Early Years of Louis XIV" by Alexandre Dumas (1993) at the Satire Theatre;
"A Small Giant of Big Sex" by Fazil Iskander (1987) at  the Hermitage Theatre;
"Overstocked Packaging Barrells" after the novel by Vasily Aksyonov (1989), "The Teacher of Russian" by Alexander Buravsky (1990), "Art" by Yasmina Reza (1997), "Love as  Militarism" by Pyotr Gladilin (1998), "Love Letters" by  A. R. Guerney (2000) at the Tabakov Theatre;
Zinovy Visokovsky's one-man show, "The Fifth Corner of  the World" (1985) and "Sleuth" (as "A Corpse on a Tennis Court") by Anthony Shaffer (2001) at the Estrada Theatre;
"YoU" by Olga Mukhina (2001) and "Harvey" (as "White Rabbit") by Mary Chase at the Chekhov Moscow Art Theatre;
"Last Summer in Chulimsk" by Alexander Vampilov, "Children of  the Sun" by Maxim Gorky, and "Europe-Asia" by the Presnyakov brothers at the Moscow Art Theatre School;
"Marienbad" after the novel by Sholom Aleichem at Sergei Zhenovach's Studio of Theatrical Art (2005);
"The Gentleman" by Alexander Sumbatov-Yuzhin (2010) and "Gorbunov and Gorchakov" by Joseph Brodsky (2011) at the Sovremennik Theatre; "Pagans" by Anna Yablonskaya (2012) at the Yermolova Theatre.
Kamenkovich also directs and teaches abroad. Some of that work is reflected in the following productions:
"The Forest" (1992) by Alexander Ostrovsky at  the Guildhall School of Music and Drama in London;
"Family Affair" (1995) based on Alexander Ostrovsky's play "It's a Family Affair";
"We'll Settle it Ourselves" at Manchester Metropolitan University;
"Body Shop" (1991) after Alexander Buravsky's play "The Lefty Master" at the California Repertory Company;
"Fruits of Enlightenment" (2000) by Leo Tolstoy at  the American Studio of the Chekhov Moscow Art Theatre.
Kamenkovich has staged numerous productions with students at  the Russian Academy of Theatre Arts (formerly GITIS):
"Twelfth Night" by Shakespeare (1990);
"School for Fools" after the novel by Sasha Sokolov (1995);
"You" (1997) and "Flying" (2007) by Olga Mukhina;
"Arcadia" by Tom Stoppard (1999).
Radio Productions:
"Phoenix" by Marina Tsvetaeva on Radio Kul'tura;
"The Marriage" by Nikolai Gogol on Radio Kul'tura;
"Flying" by Olga Mukhina on Radio Kul'tura.
Films:
"Casus improvisus" after Alexander Buravsky's play "The Teacher of Russian", co-directed with Alla Surikova for Mosfilm Studios (1991);
"Afterplay" by Brian Friel for the Kul'tura television channel (2010).